Home > eResources > Sri Lalitha Sahasranama Parayana

Sri Lalitha Sahasranama Parayana in Sravana masam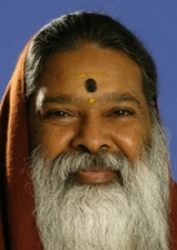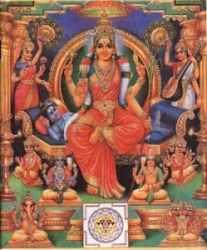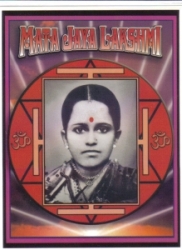 LATEST UPDATE:(9/26/2005)

Mathrumandali appreciates cooperation from those who are participating in the chanting of Lalitha Sahasranama for world peace. With the grace of Lalitha Devi Parameshwari and blessings of our Sadguru we have already achieved our target of a minimum of 9 lakhs. In fact, we have exceeded it. Final count will be taken before the culmination of this Yagnam.
To culminate this Yagnam, on the Vijaya Dashami Day our priest in Baton Rouge Temple will perform Pancha Dashaakshari, Shakti Panchaakshari, Saha Lalitha Homam. A sankalpam will be sent to you very soon upon the suggestion of our priest to be chanted on that day to terminate the chantings. Devotees interested in receiving prasadam are requested to send $18.00 toward the Yagnam. Special custom made prasadam is being made in India for this event. In addtion, on behalf of the donors a saree and blouse piece will be presented to ladies in Amma Vodi project.
Still not too late: Those who have not participated so far still have a chance to do. You may do Sankalpam mentally to Sri Swamiji and chant Lalitha Sahasranama or say Sri Mata or wirte Sri Mata as many times as you would like to. If you do so please let inform us so that we can include your chantings in our counts for world peace.
NOTE:
We received some guidelines from Bala Swamy, Mysore Ashram, regarding Lalitha Yagnam. We are chanting Goddess Lalitha Devis name to create vibrations for Vishwa Shanti (world peace). Those who cannot chant the Lalitha Sahasranamam Stotra are permitted to either chant Sri Mata or write Sri Mata as many times as they would like to, after doing the Sankalpam.Those who find difficult to do the Sankalpam may pray to His Holiness Sri Swamiji and begin chanting Sri Mata or write Sri Mata.Those who want to be included in the counting should keep a record of the counts and update us every 15th and 30th/31st of the month.
Sankalpam as suggested by Shankarmanchi Sharma Garu for interested participants to begin chanting Lalitha Sahasranamam Yagna. The Sankalpam is concise for convenience. Those who want to do more elaborate can do so. The suggested date is Ekadasi which is August 16, 2005 with Moola Nakshatra supposed to with the Goddess.
Group/individual can participate by doing the Sankalpam.
A kalasam can be set by the group/individual.
Kumkum archana can be performed to Laksmi/Lalitha Devi's picture. At the end of the whole count of chantings, kumkum can be sent to Datta Temple to be offered to the Devi.
Please take note of the guidelines for counting. Each name in the Stotram is one count. If you chant the Lalitha Sahasranamam Stotram starting with Sri Mata and ending with Tripurasundari you will have a count of 1000 names. If a group of 10 persons chant the Stotram, the count is 10,000. Please keep a record of the chantings and deadline will be set on the basis of our progress.
sponsorship to participate would be $18.00 or more (optional - has to be multiples of 9. Please make checks payable to dycusa-MM and in the memo mention Lalitha sahasranamam for us to keep an accurate account.) It applies only to those who desire to get prasadam from Datta Temple in Baton Rouge after we finish the yagnam.
Please keep Dr Nandini Rao informed about the record of your chantings every two weeks. Your cooperation is very much appreciated.
Those who need more details or clarification can call Dr Nandini Rao at 601-856-4783/cell: 601-918-7111/cell:601-942-2248 OR Email:dycusa@aol.com
INSTRUCTIONS:
1)
Sri Ganesaya Namah
Sri Saraswatyai Namah
Sri Padavallabha Narasimha Saraswati
Sri Guru Dattatreya Namah
2) Achamaniyam
(Sip water three times as you chant: Om Keshavaya Swaha;Om Narayana Namah;and Om Madhusudanaya Namah)

3) Pranayamam
4) Mention Gotra, Name and Nakshatra of each family member that you desire to have the good effect of this chanting.
5) SANKALPAM
Mamopaatta Samastha Duritakshaya Dwara SriParameswara Muddisya Pariyartham Asminvartamana Vyvahari Chandramaanena Prabhavaadi Sashti Samvatsaranaama Madhye Sri Parthi Nama Samvatsare Dakshinayane Varsha Rutau, Shraavana Maase, Suklapakse, Ekadasyam, Bhauma Vasare Mula Nakshatre Shubhayoge Shubhakare Evanguna Visesha Visistayaam.

Asmaakam Sahakutumbanaam Kshema Stairya Dhairya Abhaya Aayu Aroghya Iswarya Abhivruddhi Sidhyardham. Sri Sadguru Paripurna Karunaa Kataaksha Sidhyardham. Bhakti Gnyan Vairagya Yoganam Nirantara Abhivruddhi Sidhyartham Sri Mahakali, Mahasaraswati, Mahalakshmi Swarupini Sri Chakra Adhisthana Dhatri Lalitha Paradevata Muddisya, Prityartham Sri Raja Rajeswari Swarupa Sri Jayalakshmi Anugrahaprasadenaa Mama Manobhista Sidhyartham, Yathaa Shakti Sambhavita Dravya Sambhavit Niyamena Yatha Shakti Navalaksha Lalitha Sahasra Nama Pujaancha Anugraha Prsadena Aadityadi Navagraha Prasadena, Navagraha Dosha Nivrutti Sidhyartham, Mama Udyoga, Vyapara, Vyavahara Nirantara Abhivruddhi Sidhyartham, Sri Jaya Lakshmi Mata Prityartham, Sankalpam Vidhane Karishye.

6) Start Sri Lalitha Sahasranama chantings.
Audio Files:
(Interested can use the help of Sri Lalitha Sahasranama Audio files)