Sri Swamiji
The holy Mother of Sri Swamiji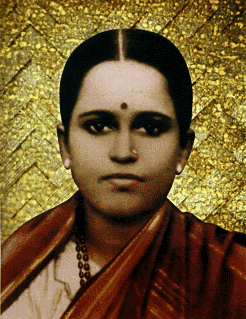 In the autumn of 1922, on the Durga Ashtami day of Navaratri the divine child Jayalakshmi was born in the village of Sogala, Karnataka. Her parents were Lingannayya Sarma and his wife, Savithri. She was beautiful and had a divine, noble power of attraction. She radiated mercy, peace and piety as she grew up. She was a source of endless joy to her parents.
In the pious confluence of the rivers Kaveri, Arkavati and Gupta Gamini is situated the village of Mekadatu in Karnataka State, India. This sacred place is famous as " Agastya Kshetra " i.e. the pilgrim center sanctified by Sage Agastya. In 1936 Linganna Sarma moved his family from Sogala to Mekedatu and created a home and farmlands out of the forest.
Jayalakshmi Mata felt very happy to live in that region of the three rivers. It is a mountainous region belonging to the Sahyadri mountain range. Many ascetics and holy persons frequented the place and stayed there not just for days but for months on end. They lived under trees. They begged for food at the different homes. Lingannayya inquired into the reason for their visits and their stay. He learned that according to their belief, the region was visited at unpredictable times by a great rishi (Lord Dattatreya) and all these spiritual seekers waited eagerly to have his darshan. They sleep when the rest of the world is awake and stay up while the rest of the world sleeps because it is at night that the great rishi would make his appearance there. Jayalakshmi worshipped Lord Shiva (Sangameswara) with a garland of 'Tummi' flowers daily at the confluence of the three rivers and served the saints and sages in Mekedatu. Her gurus were Fakir Tatha, a Muslim saint, and Karapatra Swamiji. The name Karapatra Swamiji indicates the tradition of a sect of yogis who will only eat as much food as their palm would hold. (kara is hand; patra is container). As a result of severe penance, she attained God realization and divine powers. She enlightened people regarding righteous living and helped them progress in the service of God. With her spiritual powers, she cured the sick and suffering. She relieved many people of their problems with her divine help.
In 1940, Jayalakshmi married Sri Narasimha Sastry and moved to his village of Bommeparti (Jayalakshmi Puram), Andhra Pradesh. She was a dutiful wife and gave birth in 1942 to a son who is the incarnation of Lord Dattatreya. Her child is a perfect Yogi, the embodiment of Truth - Knowledge - Bliss (Sat - Chit - Ananda). The child named Satyanarayana is none other than our beloved Sri Ganapati Sachchidananda Swamiji who feeds us with a diet of Divine Knowledge. Mata Jayalakshmi taught Sri Swamiji Raja yoga and Sri Vidhya during His childhood. She would explain the esoteric meaning of the Vedas, Purnas, Mahabharata and Ramayana. When Sri Swamiji was eleven years old Mata Jayalakshmi gave Him shakti pat initiation in the Anjaneya Temple. During the initiation Sri Swamiji experienced a vision of Mata Jayalakshmi in Her universal cosmic form as the Divine Mother. Mata Jayalakshmi concluded the initiation with 12 maxims to guide Sri Swamiji's spiritual practice. They are:
In all women see only me.
Be compassionate to the meek and downtrodden.
Whatever conditions or circumstances in which you find yourself, act only according to the scriptures.
Save a righteous soul even at the risk of your own life.
Give up discrimination. Consider all beings as one and the same.
Whatever difficulty may arise, you should not set aside your routine practice. At the same time, it should never afflict others. However, it shall always be useful and do good to others.
Behold me in all beings.
Never abandon the truth.
Grow sharper and sharper in your knowledge of divine wisdom so you may make it easy and attractive in its form and style to the mass mind.
Never openly proclaim what your future incarnations will be.
Undertake the task of propagating dharma and virtue. This, too, should be done in an easy style as is feasible.
It doesn't matter if you suffer but lead your life in such a manner that it won't cause any inconvenience or suffering to others.

Shortly after initiating Sri Swamiji, Mata Jayalakshmi attained Mahasamadhi on Vaishakha Suddha Panchami (Shankara Jayanti) in 1953.